Book Prize
CFA/Earthscan/SPGS essay competition 2006
Ugandan foresters reflect wide ranging views through essays
Ugandan foresters have been busy writing their thoughts on their forests in the inaugural CFA essay competition, sponsored by Earthscan Publishers, and the Uganda Sawlog Production Grant Scheme (SPGS). Over 30 entries from throughout the sector were judged by Associate Professor Assoc. Prof. Gombya Ssembajjwe (Makerere University) and Paul Jacovelli (Chief Technical Advisor to the SPGS) and reflected the large number of challenges facing foresters in Uganda.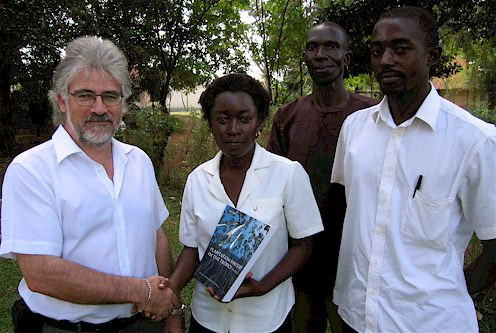 CFA essay competition winner Celia Nalwadda receives part of her prize from Paul Jacovelli, Chief Techncial Advisor to the SPGS. Standing with her, from left to right, are Francis Musinguzi (3rd place) and runner-up Frank Mukunya.
Essays discussed issues such as the role of civil society in forestry, wildlife management, and the educational needs of the sector. The winning essay, by Celia Nalwadda, was titled FORESTRY IN UGANDA: THE ROLE OF THE PRIVATE SECTOR and highlights Uganda's need to invest in plantation forestry. It examines the various ways in which the private sector can participate, the obstacles they face and steps being taken by the Government to overcome them.
Prof Gombya Ssembajjwe said "We were impressed by the overall standard of entrants but Celia's essay stood out for its balanced view way the commercial forest sector can serve the country as a whole". Mr Jacovelli agreed adding "Uganda has already done a lot to fulfil its tremendous potential to become a focal point for plantation forestry in Africa and young foresters like Celia can do a great deal to take our work forward".
Celia Nalwadda, 26, graduated from Makerere University with B.Sc. (Hons) Forestry in 2004 and has been working for the Wetlands Inspection Division in the Ministry of Water & Environment. She was recently admitted to Makerere to study for an M.Sc. in Agroforestry.
The internationally acclaimed forestry publishers Earthscan generously donated books to the winner, runner up Frank Mukunya, and third place Francis Musinguzi, all of whom also win two year's membership of the CFA.
This essay competition was carried out in conjunction with our Regional Coordinator for Africa, Ben Chikamai, and Chair of CFA Uganda, Fred Babweteera.
Celia's essay is published below, and also features in the September 2006 issue of the CFA Newsletter.
FORESTRY IN UGANDA: THE ROLE OF THE PRIVATE SECTOR
By Celia Nalwadda
The European Environment Agency defines plantation forestry as the establishment by planting and/or seeding of trees in the process of afforestation or reforestation. Trees are typically grown and managed as even-aged monoculture stands at regular spacing over a large area for timber or pole production. The private sector is defined as that part of a nation's economy that is not controlled by the Government: households, civil societies and donor agencies.
There are 5 million hectares of forest land in Uganda, of which less than 1% is plantation yet, interestingly, Uganda has excellent conditions for developing the forestry resource for commercial use. Most of the land in the country is suitable for tree plantations, is well watered with an annual rainfall range of 750-2000mm, we have a rich labour resource base and an increasing demand for forest products. Despite all this, Uganda is currently in a near crisis situation with regards to even being able to meet the domestic market demand for general-purpose timber.
The existing plantation were established by the Government the late 1970's and early 1980's, with about 13, 000 ha of mainly Pinus caribaea var. hondurensis and to a lesser extent P. patula, P. oocarpa and Eucalyptus grandis. These plantations have been harvested since 1995 and the 2,000 ha or so left are in poor state and over mature. There has been no plantation establishment for the last the past 30 years with the result that there are currently 4,000 ha of plantations below 15 years of age, most having been established since 2001. The Government through the National Forestry Authority (NFA) planted 1,000 in 2004 / 2005 and is aiming for 1,200ha in 2005/2006.
The private sector was, until recently, not actively involved in plantation forestry.
A few private woodlots are scattered all over the country, some funded through NORAD's Peri-Urban Scheme. Some tea and tobacco processing companies (e.g. James Finlay and British American Tobacco) have also established private plantations to meet their own fuel demands. The private sector, however, only seriously started planting in 2003, stimulated by the Sawlog Production Grant Scheme (SPGS) - funded by the European Union (EU), which provides planting grants and technical advice.
Over 3,000 ha have been established to date under the SPGS programme and it is well on track to achieve the 5,000 ha target by 2007. The private sector is currently planting on its own land and also on Central Forestry Reserves leased from the National Forest Autority (NFA). However, this is not enough to meet the country's projected timber demand which will exceed 1 million m3 of round wood by 2025. It is estimated that at least 60,000 ha of plantations will be required to meet this target. This projected timber demand can only be met if the efforts of the NFA are complimented by those of the private sector – including:
Direct establishment of forest plantations.
Establishment of tree nurseries to supply seedlings for commercial purposes.
Private companies can assist small scale growers through outgrower schemes.
Financial institutions can create especially designed credit schemes to meet the unique economic circumstances of private plantation companies. The EU through SPGS programme is already doing this, but other institutions like African Development Bank and the World Bank could come on board as well.
Private Universities and Technical Colleges can offer specialised training to forestry officers in plantation establishment and management.
Developments in the field of biotechnology elsewhere can be transferred to Uganda by the private sector. One company is already in the business of promoting fast growing Eucalyptus species for electricity poles production.
Although Uganda is making a great effort to lure private sector investment in plantation forestry, several constraints still prevail. There are many characteristics of plantation investment that strongly influence investors making decisions: the most obvious is the long term nature of growing trees, with a very high proportion of expenditure in the early phase and most of the revenue coming in at the end of the rotation (which can be from 10 to 25 years depending on the species and production objectives). This long gestation period adds greatly to the uncertainty and risk of plantation investment. The situation is not made better by:
Unrealistic pricing systems that undervalue timber as used until the recent past.
Lack of experienced plantation managers in Uganda.
Poor quality of seed and planting stock for plantation forestry.
Lack of appropriate information.
Technological advancements elsewhere are not being introduced.
Lack of transparency in offering land permits.
Market disincentives for investment.
These uncertainties and constraints give ample cause to investors to shy away from the plantation sector despite the apparent advantage of investing in plantations (e.g. expected increase in demand for wood products, diversification of investment portfolios, assuring long term supply for down-stream industries and potential profits in the long run). Thus there remain regular calls for assistance in the private sector to enable it play a prominent role in plantation forestry.
The Government of Uganda has proved equal to the task by taking bold steps to encourage private sector investment. Just as good site preparation is important for enhancing tree growth, so too is preparing a favourable policy and administrative foundation for supporting successful plantation development. The Government has done this by:
Establishment of good governance by enforcing the rule of law and order in Uganda. This encourages private sector by reducing the risk of investment.
Building infrastructure like transport and communication facilities.
Liberalisation of the economy by pursuing policies aimed at promoting the growth of market-based economy with less central government involvement.
Restructuring of the forest sector through formation of the NFA. This has helped to coordinate efforts aimed at plantation development.
Streamlining issues of land ownership through the constitution of 1995 and the land act of 1997: this clearly defined land as public and private, successfully overcoming ownership disputes and providing security for investors.
Formulation of complementary and enabling policies and action plans that promote the involvement of the private sector in plantation management. These include: the national forest policy, poverty eradication action plan, and plan for modernisation of agriculture and poverty action fund among others. This approach proved successful in Thailand where the reforestation act of 1992 was specifically designed to encourage the private sector to develop forest plantations. As a result of it, between 1986 and 1997, the area planted with Eucalyptus increased from 553,000ha to over 4 million ha (Brown et. al, 2003).
Signing and ratifying global conventions like the Kyoto protocol of 1997, which support plantation establishment.
Although the above efforts are commendable, much more still needs to be done. The Government can offer tax breaks and physical incentives such as seedlings to private plantation companies and there is still a need to move away from over emphasizing the conservation and environmental functions of forestry at the expense of productive ones. It is also essential that economic models for all major types of forest plantations be developed and the information be transferred to the private sector regarding the profitability of investing in plantations and the availability of funding mechanism. Commercial plantation development must also be supported by a focused research and development program with the key issue as supply of improved seed and seedlings/clones.
In conclusion, the private sector is playing a pivotal role in commercial forest plantations in Uganda. The continuity of this trend will depend on the availability of affordable funding for new plantation projects and security of land tenure, among other factors already mentioned.
For further information:
Brown, C.L. & Durst, P.B. 2003. State of forestry in Asia and the Pacific. RAP publication 2003/22. Bangkok, Food & Agricultural Organisation of the United Nations.
Carle, J., Vourinen, P. & Del Lungo, A. 2002. Status and trends in global forest plantation development. Forest Product Journal. 52 (7/8): 12-23.
FOSA Country report- Uganda. http://www.fao.org.//docrep/004/act427e.htm
NFA website. http://www.nfa.org.ug/plantation
SPGS website: http://www.sawlog.ug
NORAD 1999: Review of the forestry sector in Uganda. Kampala, Uganda.
Uganda Investment Authority 1998: A guide to investing in Uganda