Latest News
Nigeria Chapter Conference - virtual meeting
05-04-2021 08:30
Forest Ecosystem Potentials in Nigeria: Opportunities for Green Economy in the 21st Century
Virtual Commonwealth Forestry Association Conference was held at the Federal University of Technology Akure, 02 – 03 December, 2020, at (FUTA), Akure, Ondo State, Nigeria
The conference was organized to cover ten Sub-Themes as follows:
1. Status and Extent of Nigeria's Forest Ecosystem in Different Ecological Zones;
2. New Technologies and Approaches to Sustainable Forest Management in Nigeria;
3. Forest Ecosystem and Climate Change Adaptation and Mitigation;
4. Impact of Insurgency and Human/Wildlife Conflicts on Forest Ecosystem in Nigeria;
5. Gender Perspectives on Forest Ecosystem in Nigeria;
6. Forest Ecosystem Services for Mankind in Nigeria;
7. Sustainable Development of Value-Addition of Wood Products in Nigeria;
8. Sustainable Production, Harvest and Replenishment of Non-Timber Forest Products (NTFPs) in Nigeria;
9. Indigenous knowledge of Plants for Repertoire of Medicine; and
10. Forest Governance and Institutions in Nigeria.
The virtual conference was well attended by scientists in the six Geo-political zones of Nigeria, Gambia, Canada and Spain. It was agreed that a green economy is expected to generate more green and decent jobs. Renewable forest resource provides goods and services that must be sustained for their economic values. Forests have many positive roles to play in a green economy through the protection and delivery of water resources; protection and enhancement of biodiversity and prominent role in climate control and management. However, CFA Nigeria Chapter noted that the forest area in Nigeria has consistently diminished; reducing the prospect for green economy. There is inadequate statistics to make strong predictions of the Nigeria forest ecosystem. Available data are based on conservative projections and guesswork because
the forest monitoring and evaluation activity network in the country had been comatose for more than a decade. Nigeria forest information and data according to Food and Agriculture Organisation of United Nations (2010) showed that 9.9% of about 9,041,000ha of Nigeria was forested. By 2018, tree cover in Nigeria was 10,326,662ha which represented marginal increase over eight years' period from 2010 to 2018. Tree cover of 11.3% of the total land area is still far below the recommended 25% by FAO and demands attention.
It was also noted that part of the reasons why forestry in Nigeria is what it is today may be due to two vital factors. These are, first the values developed for the Forestry sector by the colonial masters which unfortunately has not changed even after over sixty years of independence. Secondly, the way that forestry in Nigeria has viewed the larger world around it and its response to the challenges. Rather than expand its frontiers, forestry went into "re cession". Every new government in Nigeria sees forestry only from the view of generating money through logging. In this way, forestry cannot effectively play any role in the green economy. These two factors have ultimately shaped all the important decisions about forestry so far.
CFA also noted that Federal Department of Agriculture in Nigeria was created in 1968 while Federal Department of Forestry was created in 1970. Agricultural sector in Nigeria is proudly thriving and expanding the frontier of knowledge. Agricultural sector alone in Nigeria has more than twenty (20) institutes. Examples from Agricultural sector are Cocoa Research Institute of Nigeria, National Horticultural Research Institute, Institute of Agricultural Research, Nationa l
Agricultural Extension Research and Liaison Services, National Cereals Research Institute, National Animal Production Research Institute, National Centre for Genetic Resources and Biotechnology, National Root Crops Research Institute, National Institute for Oil Palm Research, Nigerian Institute for Trypanosomiasis Research, to mention but a few. Forestry Sector on the other hand has since been only one umpire i.e. only One Institute-Forestry Research Institute of Nigeria (FRIN). This one umpire has for many years limited the frontier of knowledge in forest science and technology as compared with Agricultural sector in Nigeria.
It is therefore, quite apparent that forest estate (all forest reserves) in Nigeria in the next ten years will be totally encroached, deforested and degraded if urgent steps are not taken.
Commonwealth Forestry Association Nigeria Chapter therefore, agreed on a set of recommendations and actions as follows:
1. All the 36 states in Nigeria should of necessity use 'drones' with experts in Forest and Geographic Information Systems to map out all the constituted state forest reserves in Nigeria with a view to consolidating the remaining forested area and replanting the deforested and degraded areas.
2. Forestry Commission must be instituted in all the 36 states of Nigeria including Federal Capital Territory as an exemplary attribute of Cross River State Forestry Commission to preserve, conserve and manage the biodiversity in all the constituted forest reserves for the posterity and prosperity of Nigerians. This in turn would enable Nigeria to stem down the recession and to be reckoned with opportunities for Green Economy in 21st Century.
3. The conference advocated an urgent need for more forestry institutes in Nigeria which would enable coordinated strategies among researchers in forest management; forest policy, law and administration; forest governance and institutions; forest economics; urban forestry; forest ecology; forest extension and rural development; forest biometrics and remote sensing; wood science; pulp and paper; forest and climate change; silviculture and tree improvement, forest mensuration; wildlife and range management; forest landscape and ecotourism; watershed
management; agroforestry, etc.
4. Urgent actions are required by relevant government agencies, academia, scientists and all stakeholders to act very fast to combat the perilous and imminent dangers posed by illegal occupants of constituted forest reserves in Nigeria whose impacts are already evident in many sectors of our livelihood.
Photos of the workshop can be found here. Proceedings can be downloaded here.
Commonwealth Forestry Conference
20-07-2017 09:47
The 19th Commonwealth Forestry Conference was held in Dehradun, India between 3-7th April 2017. Further details about this and the CFC, incliuding the outcomes, can be found on the conference website at www.cfc2017.in
Sir David Attenborough endorses Queen's Commonwealth Canopy
08-12-2016 09:55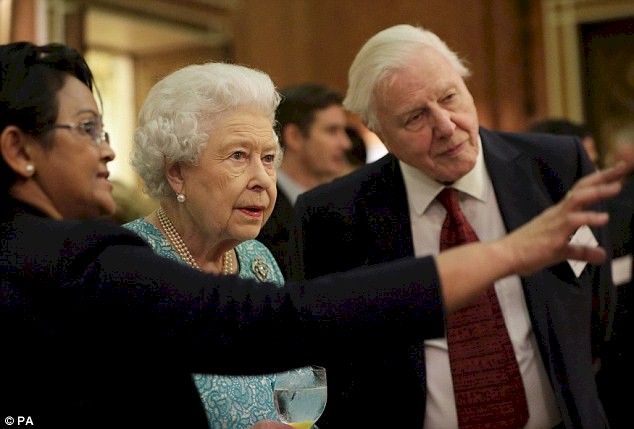 Sir David Attenborough has praised the Queen's Commonwealth Canopy, an ambitious project that aims to create a global network of protected Commonwealth forests, as the first nations to sign up to the initiative were honoured by the Queen at a Royal Reception at Buckingham Palace on 15th November.
The broadcaster and naturalist told the 20 countries who have committed themselves to the Queen's Commonwealth Canopy... (QCC) that research has confirmed the scale of the destruction of the planet's estimated three trillion trees - 15 billion a year with only five billion planted as replacements.
Sir David, who spoke to an invited audience including high commissioners and other representatives who received awards recognising their country's role in the QCC, said: "Preserving the world's green corridors, forests, jungles and botanic gardens is the simplest and most effective way to keep breathing life into planet earth.
"Over my nine decades, I have witnessed the devastating effect of the destruction of our forests and disregard for the importance of trees. I do believe that we have an obligation to nurture and replenish our natural environment for the benefit of our children and grandchildren."
The Queen was joined at the event by the Duke of Edinburgh and the Princess Royal. The Commonwealth Forestry Association is a partner in the QCC along with the Royal Commonwealth Society, and the NGO Cool Earth.